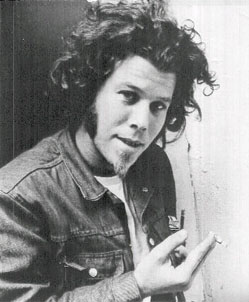 Hotty But Notty(Part 5)
:Tom Waits
There is no denying the attractiveness of
Tom Waits
,from his impressive gangling stature, his presence, to his delicious gravelly voice. I'm not in to sheen and polish, so Waits is the prefect antidote to yawnsome Hollywood veneer.
Waits has a very distinctive voice, described by critic Daniel Durchholz as sounding "like it was soaked in a vat of bourbon, left hanging in the smokehouse for a few months, and then taken outside and run over with a car." With this trademark growl, he has worked with music styles such as blues, jazz, and vaudeville, and varying experimental tendencies.



Waits Quote: 'We are buried beneath the weight of information, which is being confused with knowledge, quantity is being confused with abundance and wealth with happiness'.